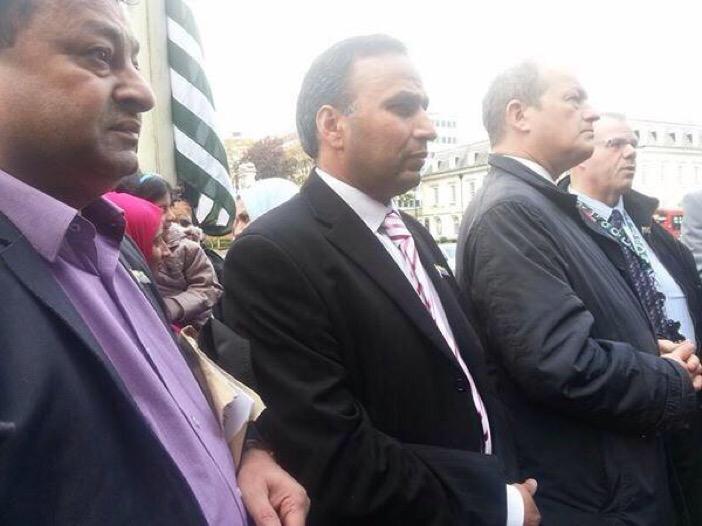 Oh Dear ! That Rochdale Labour Councillor
Shakil Ahmed and the towns Labour MP Simon Danczuk
The Police raided Ahmeds home in Rochdale today.Also in the pic apart from Danczuk is the ex-'Militant Tendency' trotskyist Labour Council leader, Richard 'Fatty' Farnell, to the right of MP Danczuk .This picture was the other week when they all raised the Pakistan flag outside Rochdale Town Hall. Ahmed is centre of the picture.
Danczuks wife is/was also a Labour Councillor for the very same ward, Kingsway ward, as Cllr.Ahmed. She worked with Ahmed.
We wonder if Cllr.Ahmed knows that Ed Miliband is jewish ?
===================================================================
Reporters were spat at and had their cameras shoved by some worshippers after Friday prayers at the Neeli Masjid Mosque in Hare Street, Rochdale, where it is believed Waheed Ahmed attended.
A spokesman for the mosque said: "It's a big-time shock. I have seen him here. I watched it on the news but I don't know the family."
After prayers, another man said: "People are shamed about what's happening, Rochdale again is brought into light again for negative reasons.
"Muslims are being stigmatised. Islam itself is beautiful but the musclemen need to go to pure Islam.
"People are saying Isis, Isis is not Muslim, Isis is Mossad. It's on the internet."
At a second local mosque, the Masjid Al-Furquan, in Philip Street, Rochdale, worshippers were also frustrated by questioning from reporters and cameramen.
After prayers some railed at journalists for the way Muslims are portrayed in the media.
http://www.thetelegraphandargus.co.uk/news/national/news/12869957.Councillor_son_held_at_Syria_border/