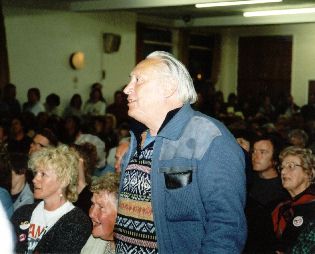 Derrick Day - former London East End NF activist
This pic was taken at an animal rights meeting to protest the live animal exports at the battle of Brightlingsea in late 1995. Unfortunately Derrick died during these protests. He loved animals. Derrick was a personal friend of this writer, and he spoke many times at Rochdale NF meetings during the late 1970's and early 1980's.
Johnny Speight the jewish ex communist writer, based his popular TV character 'ALF GARNETT' on Derrick Day. This was admitted in a Sunday Telegraph article by Speight. 'Alf Garnett' was a fellow jew Warren Mitchell .
Derrick speaking at NF rally in Hoxton 1978
Derrick can be seen second from the right leading the National Front march at Lewisham 13th.August 1977