Backlash to World Economic Order Clouds Outlook at IMF Talks
'Creeping protectionism' poses economic, market risks: fund

World economy likened to driverless car stuck in the slow lane
Policy-making elites converge on Washington this week for meetings that epitomize a faith in globalization that's at odds with the growing backlash against the inequities it creates.
From Britain's vote to leave the European Union to Donald Trump's championing of "America First," pressures are mounting to roll back the economic integration that has been a hallmark of gatherings of the IMF and World Bank for more than 70 years.
Fed by stagnant wages and diminishing job security, the populist uprising threatens to depress a world economy that International Monetary Fund Managing Director Christine Lagarde says is already "weak and fragile."
The calls for less integration and more trade barriers also pose risks for elevated financial markets that remain susceptible to sudden swings in investor sentiment, as underscored by recent jitters over Frankfurt-based Deutsche Bank AG's financial health.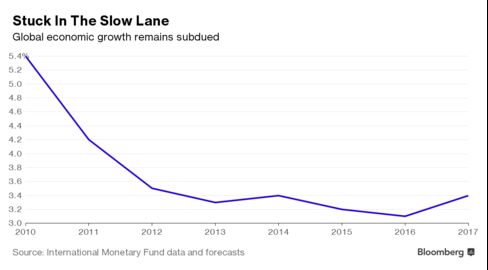 "The backlash against globalization is manifesting itself in increased nationalistic sentiment, against the outside world and in favor of increasing isolation," said Louis Kuijs, head of Asia economics at Oxford Economics in Hong Kong and a former IMF official. "If we lose consensus on what kind of a world we want to have, the world will probably be worse off."
In its latest World Economic Outlook released Tuesday, the fund highlighted the threats from the anti-trade movement to an already subdued global expansion. After growth of 3.2 percent in 2015, the world economy's expansion will slow to 3.1 percent this year before rebounding to 3.4 percent in 2017, according to the report, keeping those estimates unchanged from July projections. The forecasts for U.S. growth were cut to 1.6 percent this year and 2.2 percent in 2017.
"We'd like to see an end to the creeping protectionism in the world and more progress on moving ahead with free-trade agreements and other trade-creating measures," Maurice Obstfeld, director of the IMF's research department, said in a Bloomberg Television interview with Tom Keene.
Lagarde said last week that policy makers attending the Oct. 7-9 annual meeting of the IMF and World Bank have two tasks. First, do no harm, which above all means resisting the temptation to throw up protectionist barriers to trade. And second, take action to boost lackluster global growth and make it more inclusive.
Achieving even those modest objectives may prove elusive. Free trade has become polling poison in the U.S. presidential campaign, with Democratic nominee Hillary Clinton now criticizing a trade deal with Pacific nations, which isn't yet ratified in the U.S., that she had praised when it was being negotiated. Republican challenger Trump has lashed out at Mexico and China, threatening to slap big tariffs on imports from both nations.Rattled by the U.K.'s June vote to leave the EU, European leaders know it may just be the start of a political earthquake that's threatening the continent's old certainties. Next year sees elections in Germany and France, the euro area's two largest economies, and in the Netherlands. In all three countries anti-establishment forces are gaining ground.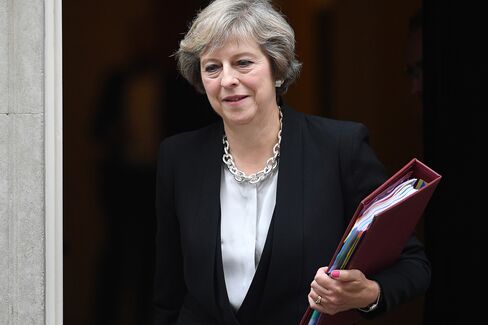 With growing resentment of the EU from Budapest to Madrid, policy makers have described the current surge in populism as the greatest threat to the bloc since its creation out of the ashes of World War II.
Hard Exit
There are also growing signs that the union and Britain are heading for a so-called "hard exit" that would sharply reduce the bloc's trade and financial ties with the island nation. U.K. Prime Minister Theresa May said on Oct. 2 that she'll begin her country's withdrawal from the EU in the first quarter of next year.
Perhaps the biggest beneficiary of free trade over the past generation, China, still restricts access to many of its key industries, with economists worried about increasingly mercantilist policies. It's also seeking a larger role in the existing global framework, with entry of the yuan into the IMF's basket of reserve currencies on Oct. 1 the most recent example.
An all-out trade war would be a disaster for China's economy, with Trump's threatened tariff potentially wiping off almost 5 percent of its gross domestic product, according to a
calculation
by Daiwa Capital Markets.
Waning Support
John Williamson, whose Washington Consensus of open trade and deregulation was effectively the governing ethos for the IMF and World Bank for decades, said the 2008-09 financial meltdown had undercut support for economic integration.
"There was agreement on globalization before the crisis and that's one thing that's been lost since the financial crisis," said Williamson, a former senior fellow at Peterson Institute for International Economics who is now retired.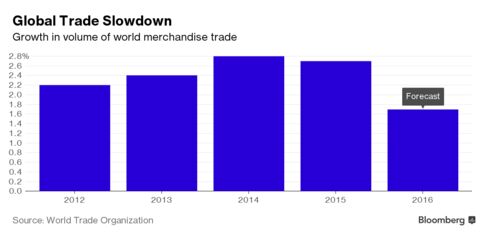 The growing opposition to economic integration has been fueled by a sub-par global recovery.
"Perhaps the most striking macroeconomic fact about advanced economies today is how anemic demand remains in the face of zero interest rates," former IMF chief economist Olivier Blanchard wrote last week in a policy brief for the Peterson Institute.
The world economy is getting some lift after rising at an annual rate just shy of 3 percent in the first half of this year, according to David Hensley, director of global economics for JPMorgan Chase & Co. in New York.
Driverless Economy
But much of the boost will come from a lessening of drags rather than from a big burst of fresh growth, said Peter Hooper, chief economist at Deutsche Bank Securities Inc. in New York and a former Federal Reserve official.
Recessions in Brazil and Russia are set to come to an end, while in the U.S. cutbacks in inventories and in oil and gas drilling will wane.
"I'm characterizing the global economy as something akin to a driverless car that's stuck in the slow lane," said David Stockton, a former Fed official and now chief economist at consultants LH Meyer Inc. "Everybody feels like they're being taken for a ride but they're pretty nervous because they can't see anybody in control."
Upside Risk
Still, for the first time in the past few years, Stockton said he sees a real upside risk to his forecast of continued global growth of around 3 percent next year. And that's coming from the possibility of looser fiscal policy in the U.S. and Europe.
In the U.S., both Clinton and Trump have pledged to boost infrastructure spending on roads, bridges and the like.
In Europe, rising populism provides a powerful incentive for governments to abandon austerity ahead of the elections next year -- and perhaps beyond.
Whether such a shift will be enough to mollify those who have been on the losing side of globalization for decades is debatable, however.
"The consensus in policy-making circles was that more trade meant better economic growth," said Standard Chartered head of Greater China economic research Ding Shuang, who worked at the IMF from 1997 to 2010. "But the benefits weren't shared equitably, so now we see a round of anti-globalization, anti-free trade.
"Globalization will stall for the moment, until we can find a way to share those benefits," he added.
http://www.bloomberg.com/news/articles/2016-10-04/existential-threat-to-world-order-confronts-elite-at-imf-meeting