Tommy Williams and Dave Howard - The FONZ
Tommy Williams and Dave Howard
-------------------------------------------------------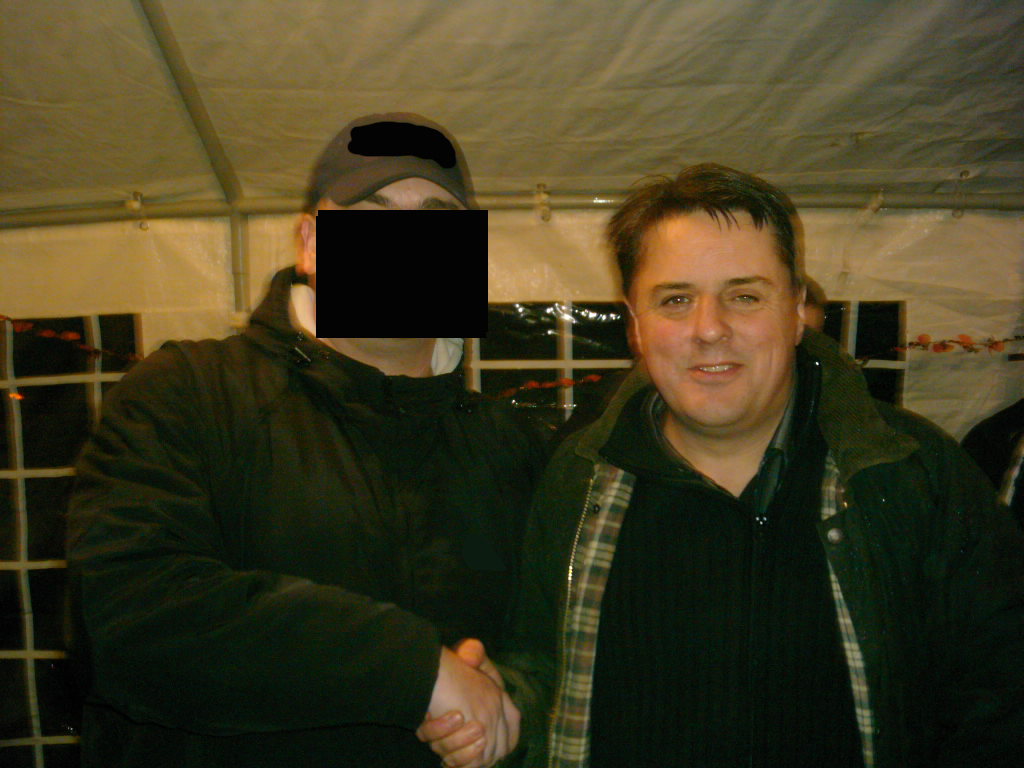 -------------------------
West Yorkshire Police were called today after Tommy Williams and Dave Howard turned up at 2.35pm on the Leeds doorstep of National Front Director of Information Eddy Morrison. Williams spoke while Howard stayed in the background filming. (We look forward to seeing if a video appears on Williams' blog.)
Eddy was at home with a NF comrade, three other members having left about half an hour ago. Tommy Williams knocked at the door and, when it was answered, said "Come outside, Eddy, and I'll do you." This was mingled with much swearing and more specific threats. Eddy and his comrade have informed the police that they saw either a knife or cosh in Williams' right hand. When Eddy and the other NF member attempted to shut the door, Williams stuck his foot in to prevent this. They only left when the NF member said he would call the police and Williams kicked the door as they departed. As they drove away, the NF members were able to take down the registration number of Howard's car, which has been supplied to the police.
When the police arrived, they were extremely concerned that such an incident had taken place in an old persons' residential complex and stayed for several hours. They took statements from Eddy and the comrade who was with him at the time, as well as other residents of the complex. They were also shown a threatening email sent by Williams a few days previously (see Eddy's blog), which shows a prior intent to intimidate and harm the recipient. When they were told about the many threats which have appeared on the Covert blog, they asked to see it and requested many printouts which they took away with them. The opinion of the police officers present was that the actions of Williams and Howard warranted, at the very least, a charge of threatening behaviour, and a file will be sent to the Crown Prosecution Service.
The police were also interested to learn that an elderly female NF member had been threatened and abused over the phone by a man with a South Yorkshire accent and will be speaking to her also.
National Front members are greatly angered by today's events and all of us regard an attack on a single member as an attack on the entire party.
http://www.stormfront.org/forum/showthread.php?t=661107
NWN: No surprises here with these two thugs. However the links to Nick Griffin should be cause for concern to Griffinite BNP people.

https://www.indymedia.org.uk/en/2009/07/434677.html?c=on
Breaking News
The Covert Blog has been closed (not shut down).
Presumably the owners want to hide some of the more incriminating stuff from the police while the investigation is under way.
http://northwestnationalists.blogspot.co.uk/2009/11/tommy-williams-and-dave-howard-west.html
NWN: We have lifted this old post from the vaults. Seems these two shitbags are still around spreading their poison . Thankfully most now realise the part they played in destroying the BNP. They still post apparently on the Democracy forum using the name - THE FONZ.
Williams was also found out to have been working for Channel 4 for AntiFa and living in Milwaukee ! Plays for some rubbish band as well.
http://covertexposed.blogspot.co.uk/2009/11/tommy-williams-works-for-channel-4_30.html
It is also significant that 'they' use the 'nom de guerre of 'The Fonz'. The Fonz is/was a communist jew, whose real name is Henry Winkler !
At one time they were both paid by the crook Nick Griffin to act as his attack dogs and to push dirty propaganda- just like the zionists.
They helped Griffin destroy the BNP, and they knew exactly what they were doing.
This pair went off to do their bit for the EDL. And we all know where they ended up!
https://projectsheffield.wordpress.com/2010/03/22/the-edl-and-there-friends-nick-griffin-tommy-williams-and-dave-howard/