Nick Griffin's legacy is one of failure and incompetence
The BNP may have imploded but the fact it achieved such an electoral foothold is a warning to the main parties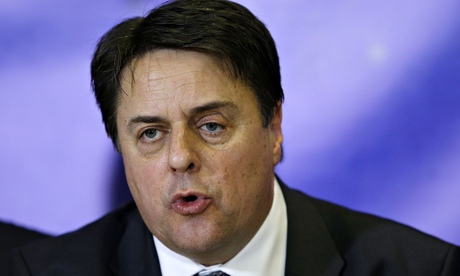 In the early hours of 8 June 2009, as
Nick Griffin
was celebrating his election as an MEP for the north-west, a senior figure in the Labour party phoned and offered this assessment: "We missed our chance. The BNP has now entered the body politic and we will be living with the consequences for years to come." But fast forward five years and that prediction has proved unfounded. This week,
Griffin was ousted as leader
, as the party he turned into the most successful far-right organisation in the UK's history continues to implode.
In June 2009, the BNP had almost 60 councillors, two MEPs and, perhaps more importantly, a series of strongholds across England. Griffin's failure to
translate this position into the feared permanent political presence
in the UK is his enduring legacy.
Despite a potentially favourable climate for the far right – recession, cuts to local services, toxic rhetoric around immigration in the media and widespread disillusion with mainstream politics – Griffin's BNP has been all but wiped out, stumbling from one crisis to another and culminating in his decision this week to "step aside".
Vicious infighting
has been fuelled by allegations of corruption and incompetence, and scores of key organisers have left. Fundamentally, the party
failed to attract any significant support beyond its base of older white men with low levels of education
.
This did not happen by accident. Alongside the shortcomings within the BNP, there was a concerted and often tireless campaign across the country that took on the party, exposing its lies and racism. As mainstream political leaders too often focused on swing seats they hoped would win the next election, local communities in BNP strongholds came together with churches, mosques and trade unions to offer a different analysis of people's problems.
Far-right politics in the UK is now fractured. Several small groups that few people have heard of fight among themselves. The BNP will continue to rumble on in one form or another, the dwindling factions will continue to squabble and Griffin may even make another tilt at the leadership. But fewer and fewer people will take any notice.
Griffin's legacy is one of failure and incompetence. But the fact the BNP achieved a significant electoral foothold before imploding should serve as a stark warning to mainstream politicians who too often take large swaths of the electorate for granted.
http://www.theguardian.com/commentisfree/2014/jul/22/nick-griffin-legacy-bnp-parties