Grenfell Tower fire: Undocumented migrants could still be missing
Campaigners call for immigration status amnesty amid concern victims are not seeking support over fears they could be referred to police or Home Office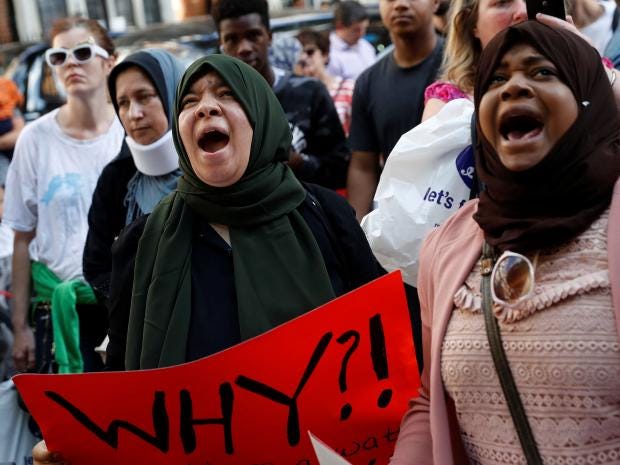 The Radical Housing Network, a London-wide organisation of which the Grenfell Action Group is a member, has called on authorities to rehouse all residents locally, regardless of their residential or immigration status, urging they must commit to rehousing all residents.
Amid the mounting concerns, a government source said the Met police had committed that if victims living in the UK illegally contact the hotline set up for victims, they will take no action. They did not mention whether Home Office officials would have any involvement.
One local volunteer, who didn't want to be named, said she had heard multiple reports that undocumented migrants living in the flats had "deliberately disappeared" following the blaze, including a large group of Filipinos.
"There must have been a bunch of people in that building who probably escaped on the night and probably ran away from the situation. There has been speak from other residents of a whole load of Filipinos living in there that no one has seen since it happened," she said.
"There will have been other people living in those flats it seems who will have been undocumented. Those people were never there in the first place as far as the social services are concerned. Because of the awful fire, their won't be any remains either, so there will be this swathe of people who sort of didn't exist."
The volunteer said she had come across a young woman who was an over-stayer in the UK and had been living with her boyfriend as a subtenant in his flat since February, and was "very scared" of approaching authorities. Her boyfriend has gone missing and is believed to have died in the blaze. She is very scared and doesn't want to deal with the police at all," said the volunteer.
"She told me she acted dumb in front of police because she wasn't legal. She was frightened. These people worry that the council is in the firing line so if they speak out they'll hold off sorting out their paperwork. Of course there's going to be an underlining fear if you're not completely above board."
Zrinka Bralo, chief executive of Migrants Organise, a support group working in the north Kensington area, said she had come across a male Somali asylum seeker who had lived in the building and was afraid to seek help, adding that there were also many foreign nationals who had not yet appeared on missing people lists. "We helped a Somali man who had been waiting for an asylum decision, and obviously he lost all his papers in the fire. He was afraid to get help, but we encouraged him to go to the north Kensington law centre and he did, and is now getting legal support," Ms Bralo told
The Independent.
"We haven't even established the number of victims yet and who they are. We know from our community contacts that Moroccans who were not on any of the lists, Sudanese, Eritrean and Ethiopian families who are not on any of the lists.
"Community members are organising wakes and they're trying to figure out where people are. My main message now is that people shouldn't be afraid. They should come to the law centre where they will be seen and helped."
Jolyon Maugham, barrister and director of the Good Law Project, said it is challenging for residents who don't have migrant status, are subletting apartments or are reliant on benefits, to trust the authorities that that are "suspicious and sometimes hostile" towards them. He along with campaigners is calling for an immigration status amnesty for anybody living at the tower block.
Mr Maugham told
The Independent:
"There are concerns for Grenfell Tower residents without migrant status, and also concerns for those who were subletting apartments, and those receiving benefits and whether receiving money will affect your entitlement to benefits.
"It's very easy for middle-class people to assume that these objections are all superficial, but the reality is people are very concerned, and I think that if you live in that world that you know how difficult it is to deal with suspicious and sometimes hostile authority.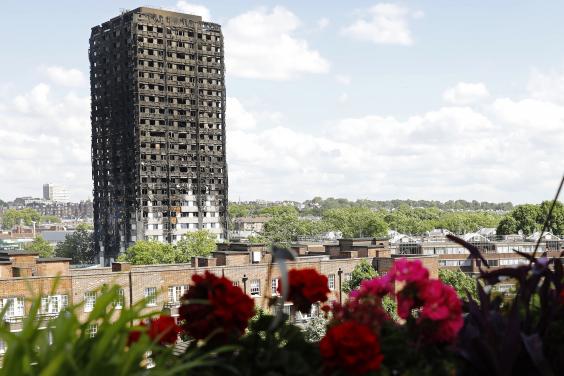 "People may think I'm not going to get any compensation I'm just going to get deported. Public authorities must commit to rehousing all residents to ensure their future safety and security."
"Grenfell was home to council tenants, private renters, homeowners, subtenants and people staying with family and friends. The council has a responsibility to all of these people. No one should be left in a worse situation by this tragedy."
A spokesperson from Radical Housing Network urged that public authorities ensure the future safety and security of all residents, saying: "We're calling on the government in conjunction with Royal Borough of Kensington and Chelsea (RBCK) to act on their commitment to house all Grenfell residents in the local area, in long-term accommodation which meets their needs.
"Crucially, public authorities must commit to re-housing all residents to ensure their future safety and security – Grenfell was home to council tenants, private renters, homeowners, subtenants, and to many people from other countries including migrants and asylum seekers.
"The council has a responsibility to all these people. No one should be left in a worse situation by this tragedy, and the Grenfell community must be allowed to heal together in the local area if they wish to."
A senior government source said: "The Met have given an absolute commitment that, if anybody who may be living here illegally rings the special hotline set up for victims, they will take no action.
"There will be no attempt to find them, and nothing will be done with the information beyond removing them from the list of potential fatalities."
http://www.independent.co.uk/news/uk/home-news/grenfell-tower-fire-disaster-latest-residents-families-victims-homeless-immigration-status-migrants-a7798051.html?cmpid=facebook-post
NWN: What a bloody set up ! It's no wonder the authorities do not know how many died here or who is living here. Rumours abound that up to 50% of these flats are illegally subletted.With the real owners going back to their 'homelands' living off the £2,000 a month rolling in ad infinitum. A nice little earner, but apparently the authorities know this is going on. But of course, another 'blind -eye' by the authorities over the behaviour of these 'British people' in case the word 'racism' gets wheeled out to batter anyone who dares raise a voice. And we still have not been told why this fire went up in the first place. Once again, rumours of very odd behaviour by these 'people' suggest the how and why.
Then we have this;
An amnesty for these illegal immigrants who should not have council properties in any circumstance anyway. That 'daft bat' Theresa May announced yesterday that the government have indeed initiated an amnesty ! The poster above declares an amnesty.
It's bad enough the crooks who cut corners building these properties and who are still on the loose. But there will be a whole shedload of other absolutely incredulous behaviours will be revealed, from the four corners of the globe where these people have come from . Enriched we are ! Diversity is our strength they say!
Madness !