France: 'I am not Charlie,' Jean-Marie Le Pen says
Former head of far-right Front National party slams Charlie Hebdo memorial, says he's 'touched by deaths of 12 French compatriots' but says they 'enemies of the party.'
"I am not Charlie," the former leader of the French far-right Front National (FN) party Jean-Marie Le Pen said on Saturday, referring to the popular phrase and hashtag currently trending on social media in solidarity with the victims of the Charlie Hebdo massacre.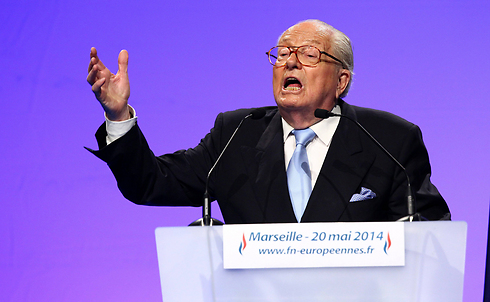 Jean-Marie Le Pen: "These were the enemies of the FN who only recently demanded the party's dissolution"
Le Pen lamented the deaths of 12 "compatriots" that took place during the attack on Wednesday, but slammed a rally slated to be held in memory of its victims on Sunday as being "orchestrated by the media", Le Figaro news site reported. The FN was not invited to the rally, which a number of world leaders are expected to attend.
"Today, everyone is saying: 'We are all Charlie, I am Charlie.' Well, I'm sorry, but I'm not Charlie," Le Pen said. "I am touched by the deaths of 12 French compatriots whose political identity I don't even want to know – although I know it well enough already. These were the enemies of the FN who only recently demanded the party's dissolution."

The FN was not invited to the Charlie Hebdo solidarity march in Paris, which was organized by French President Francois Hollande and opposition leader Nicolas Sarkozy.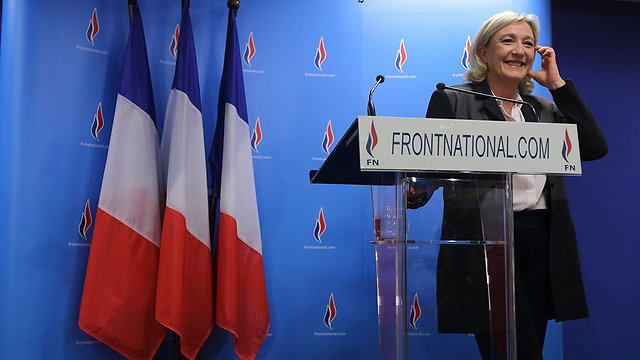 Marine Le Pen: "I will not go where I am not wanted" (Photo: Reuters)


Current FN leader said she "regretted" not being invited to the "Republican march" and said she would have been happy to attend. "I will not go where I am not wanted," she told AFP on Friday.
"I was ready to participate and I was very sincere about my desire to pay homage (to the victims of the Paris massacre)," said Le Pen.
The FN party in May won 25 percent of the French vote in the European Parliamentary elections and has emerged as a major contender for the presidential election in 2017.
"The Socialist Party has screwed up the opportunity to show respect to the victims and also with regards to freedom of expression and freedom of opinion by excluding a political movement which came out on top in the last election," Le Pen said.
She then accused Hollande and Sarkozy of organizing the march for political reasons.
http://www.ynetnews.com/articles/0,7340,L-4613491,00.html
France's National Front marches alone to defend 'liberty'
France's far-right National Front (FN) held a demonstration of its own against terrorism on Sunday, after being excluded from a massive unity rally in Paris.
Party leader Marine Le Pen led a demonstration in the FN-controlled southern town of Beaucaire after denouncing what she called the "exclusion" of her party from Paris march, which drew more than a million people in solidarity with the 17 victims of terror attacks this week.
Though debate had raged among French political leaders over whether the generally ostracised FN should be allowed to participate alongside other parties in the Paris demonstration against terrorism, Le Pen claimed she and her supporters had been shunned even though President
Francois Hollande
had invited "all citizens" to participate.
Leading a thousand FN marchers in Beaucaire, Le Pen thanked the crowd "for being here and reminding us of the values of liberty," saluting them from beneath a banner reading "I Am Charlie -- Homage to the victims of terrorism."
The slogan contrasted with the flat rejection Saturday by her father and FN founder, Jean-Marie Le Pen, to associate with the "#JeSuisCharlie" (IAmCharlie) slogan which expresses unqualified solidarity the satirical Charlie Hebdo newspaper targeted by Islamist attackers who killed 12 people Wednesday.
"Sorry, but I'm not Charlie," the elder Le Pen told the Beaucaire crowd in a video message, echoing his long-standing hostility towards the paper that frequently singled him out for merciless satire.
During a press conference later Sunday, Le Pen senior deployed his notorious use of mocking humour to disparage the national march and politicians leading it, by referring to them as "charlots" -- the French nickname for Charlie Chaplin that also means "clown."
"All these people are marching with the placard 'I Am Charlie,' when they're actually 'charlots' responsible for the decadence of France," Le Pen said, adding that French and European leaders "bear the responsibility for what happened" in the attacks by failing to address rising immigration and halting integration of foreigners.
He said he felt compassion for his "fellow citizens" killed in the attack, but railed against the "anarcho-Trotskyist spirit" of Charlie Hebdo which he derided as corrosive to "political morality".